Senior Farmers Market Checks Still Available!
August 30, 2023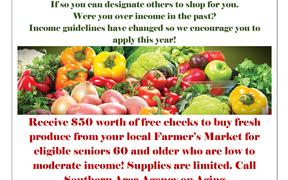 Seniors it's here! Farm Market Fresh!
Eligible seniors may receive $50 worth of free checks to buy locally grown fresh fruits and vegetables at participating Farmer's Markets. Beginning on Monday, April 3rd SAAA will take applications over the phone and in person while supplies last! To apply call (276) 632-6442 or toll free (800) 468-4571.